The answer is: Yes, you can watch DVR on the Spectrum app. The Spectrum TV app is a mobile application that allows customers to access their favorite shows and movies directly from their device. With the Spectrum TV app, users can view live and recorded programs on their phones or tablets as well as control their home DVRs remotely.

Additionally, they can search for titles or browse through channels using the intuitive user interface. To use this feature, customers must have a compatible set-top box connected to a Wi-Fi network with an active internet connection. They will also need to log in with their account credentials before accessing any content on the app.
Download the Spectrum TV App: The first step to watching DVR recordings on your mobile device is downloading the Spectrum TV app from either the Apple App Store or Google Play Store
Log in with Your Account Information: Open up the app and you will be prompted to log into your account using your username and password associated with your cable service
Access Your DVR Recordings: Once logged in, select "My Library" from the bottom menu of options and then select "DVR" at the top of this page to access all of your recorded programs that can be watched on-the-go
Select a Program & Start Watching: Finally, choose which program you would like to watch from a list of available recordings and press play! Enjoy watching shows anywhere – even without an internet connection if they are downloaded beforehand!
Why is My DVR Not Showing on My Spectrum App?
If you are experiencing issues with your DVR not showing up on the Spectrum app, you may be facing some technical difficulties. The first step to solving this issue is determining what type of connection your DVR has. If it's connected via a coaxial cable, then you need to ensure that the cable is properly inserted into both the wall outlet and the back of the device.

Additionally, if there is an HDMI port available on either side of your device, make sure they are securely plugged in and working properly. Once your connection appears to be secure and functioning correctly, restarting both devices can help jump start things again. To do this unplug them from their power sources for at least one minute before plugging them back in and powering them up again.

This will reset any existing settings or cached data that could possibly be causing problems with connecting to each other or streaming content through the Spectrum app.
How Do I Access My DVR Recordings on Spectrum?
If you have a DVR from Spectrum, then you can access and manage your recordings in several ways. You can use the Spectrum TV app or your remote control to access the on-screen guide and view available recordings. Once you've located a recording, select it and choose "Play."

If you want to save a show for later viewing, simply press the record button twice while watching any program; this will add it to your list of saved recordings. Additionally, if there is an upcoming episode that interests you, navigate to its listing and select "Record Series" so that all episodes are automatically recorded when they air. To delete any unwanted recordings from your list, go into the Recording Library menu within the guide and highlight what needs to be removed before pressing OK on your remote control.

With these simple steps, accessing and managing your DVR content with Spectrum has never been easier!
Can You Download Spectrum DVR Recordings?
Yes, you can download Spectrum DVR recordings with a few simple steps. First, make sure that your DVR is connected to the internet. Then open the Spectrum TV app on your device and log into your account.

Once logged in, locate and select the show or movie you would like to download from the On Demand library. Hit the record button located at the bottom of each program's information screen and then wait for it to finish downloading onto your device. After this has been done, go back to the main menu and select My Library.

Here you will find all previously recorded content ready for playback or deletion as desired.
Is Spectrum Cloud DVR Free?
Spectrum cloud DVR is a great service that allows customers to record their favorite shows and movies that they can watch later. However, many people are curious if this service is free or not. The answer is no, Spectrum Cloud DVR does require a subscription fee in order to use the recording features of the service.

This fee usually varies depending on what package you have with Spectrum, but it typically ranges from $4-10 per month for access to these services. The good news is that you do get some extra benefits when subscribing to this feature such as being able to store up to 200 hours of recorded content on the cloud server which makes it easier for you to access your recordings from any device connected via Wi-Fi .
Additionally, subscribers also gain access to On Demand programming which give them even more options in terms of watching their favorite movies and shows whenever they want without having them prerecorded beforehand.

Overall, while there may be some added costs associated with subscribing for Spectrum's Cloud DVR feature, it's still an attractive choice due its convenience and flexibility in allowing users access their content wherever they are at anytime time they need it most!
How Do I Access My DVR Recording?
Accessing your DVR recordings is simple and straightforward. You can access them from the remote control, or you can use a web browser on a laptop or desktop computer to log into your DVR's website. From there, you'll be able to select which recording you want to view by selecting the folder containing it, along with any other options for sorting and searching.

Once selected, a preview of the video will appear that allows you to start playing it immediately or record it onto an external device such as a USB drive. Additionally, if connected properly to your home network router or modem via Ethernet cable (or wirelessly), many modern models allow users to stream their recordings directly over mobile devices such as smartphones and tablets without having to download them first.
Spectrum TV App Tutorial
How to Watch DVR on Spectrum App?
Spectrum customers can now watch their favorite programs and movies on the go with the Spectrum TV App. The app allows users to stream live television, view recordings from their DVR, and access a large selection of On Demand content. To use your DVR recordings on the app, simply open it up, select "My Library" from the main menu, and then choose "DVR Recordings."

From here you'll be able to browse through all of your available shows or search for specific titles. Enjoy!
How to Use Cloud DVR on Spectrum TV App?
If you have Spectrum TV, you can easily access your content on the go with their TV app. With the Cloud DVR feature, you can record shows and movies from anywhere and watch them anytime. All you need to do is start recording a show or movie through the Spectrum TV App, then log in to your account online or via the App on any device that supports streaming.

Once logged in, select "My Library" to view all of your recorded content and begin watching at any time!
How to Use Spectrum Cloud DVR?
Spectrum Cloud DVR is an innovative new technology that allows customers to record TV shows and movies on the cloud, making them available for playback anytime, anywhere. With Spectrum Cloud DVR, users have access to their recordings from multiple devices such as laptops, smartphones and tablets. To use this service, customers first need to register with a valid email address and create a username/password combination.

Once registered, users can easily record any show or movie they want by selecting it from Program Guide or Search function of the TV app. The recording will then be stored in the customer's personal cloud library which can be accessed at any time through compatible devices connected to the internet.
Spectrum Cloud DVR
Spectrum Cloud DVR is a great way to watch your favorite shows, movies, and sporting events on demand. With Spectrum Cloud DVR you can record up to 20 hours of programming in the cloud so that you can access it anytime and anywhere. You will also be able to pause, fast forward, and rewind live TV or recorded programs with this feature.

Plus, if you miss a show while away from home no worries! The recordings are stored securely in the cloud so they can be accessed from any device connected to the internet.
Spectrum DVR App
The Spectrum DVR app is a great tool for those who have subscribed to the cable provider's service. It allows you to access all of your favorite shows, movies, and much more from anywhere with an internet connection. With this mobile application, users can watch live TV on their phones or tablets, record up to 20 hours of content with just one click, schedule recordings remotely and even pause live television without missing any important moments.

Additionally, the Spectrum DVR app also offers parental controls so that parents can keep their children safe while watching TV online. With the ever-growing popularity of streaming services like Netflix and Hulu Plus, having a reliable source for digital content has become increasingly important – which is why the Spectrum DVR app is such a great choice for many viewers!
Spectrum TV App DVR Not Working
If you use the Spectrum TV App and are having trouble accessing your DVR, there are a few steps you can take to try and resolve the issue. First, make sure that your wireless network is connected and active; if it isn't, connect it before trying to access the app again. Additionally, uninstall any older versions of the Spectrum TV App that you may have installed on your device as these can sometimes interfere with new updates.

Finally, if none of these solutions work for you then contact Spectrum customer service for help troubleshooting this issue further.
How to Get Spectrum Cloud DVR?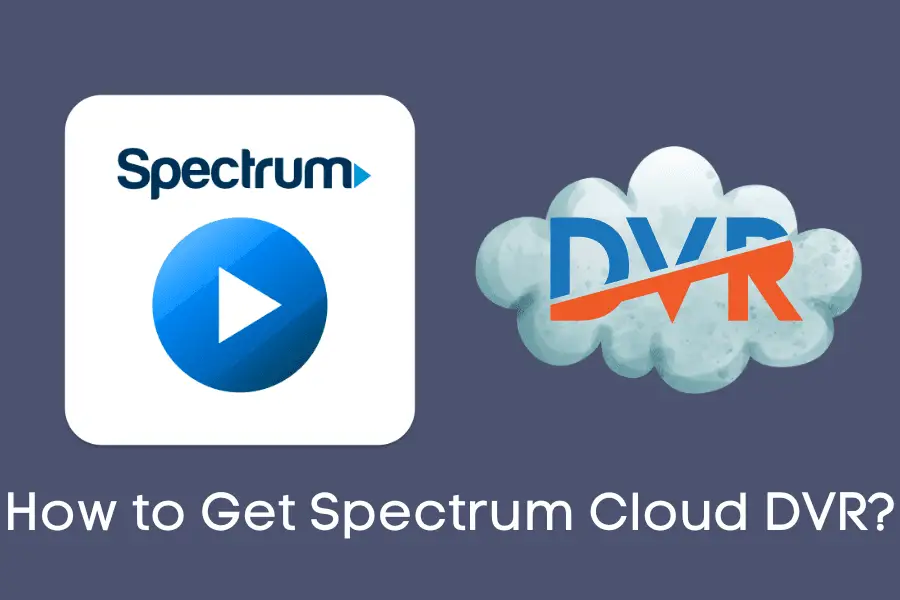 Getting Spectrum Cloud DVR is easy! Simply contact your local Spectrum customer service representative to get started. From there, you'll be able to select the package that best fits your needs and budget.

With this cloud-based system, you'll have access to all of your favorite shows and movies whenever it's convenient for you – no extra hardware or software required. You can even use it on multiple devices at once so everyone in the family can watch their favorites at the same time.
How Do I Record on Spectrum Without DVR?
Recording on Spectrum without a DVR is possible thanks to its cloud-based platform, known as "Spectrum TV Stream." This feature allows you to access select content and record it directly from your computer or mobile device. You can also use the Spectrum TV app for streaming live channels and recording them for future playback.

To take advantage of these features, make sure you have an internet connection with enough bandwidth for streaming video, as well as a compatible device like an Android smartphone, Apple iPhone/iPad, Fire Tablet or Apple TV.
Conclusion
Overall, watching DVR on the Spectrum app is incredibly easy and convenient. It allows you to watch your favorite shows and movies when it suits your schedule best. With a few simple steps, you can quickly access recorded content from anywhere with an internet connection.

Furthermore, there are no extra fees or subscriptions required to use this service which makes it even more attractive for those who love to stay connected but don't want the added hassle of having multiple streaming services. All in all, if you have a Spectrum subscription then the ability to watch DVR on their app is definitely worth exploring!