The Spectrum app costs $0, it is free to download. The Spectrum app provides easy access to the entire Spectrum suite of products and services, from live TV streaming to on demand and DVR content.
But how much does it cost? That's probably the first question that comes to mind when considering downloading the Spectrum app. Luckily, the answer is straightforward: it's free! That's right, you don't need to pay any extra fees to use the Spectrum app, as long as you already subscribe to Spectrum services.
The app is compatible with multiple devices, including smartphones, tablets, and smart TVs, making it even more convenient to enjoy your favorite TV shows and movies on demand.
Explaining The Spectrum App's Features
The Spectrum app has become increasingly popular among people of all ages. It's a streaming service that provides access to live and on-demand TV shows, movies, and other video content. Its features are endless, and we're going to explain some of the most popular ones in this article.
Description Of The Spectrum App's Most Popular Features
Here are some of the most popular features of the Spectrum app:
You can access thousands of TV shows, movies, and other video content.
The app has a user-friendly interface, making it easy to find content.
It allows users to record live TV shows and movies.
You can watch content on multiple devices using one account.
The app offers parental controls, which allow you to restrict access to certain content.
You can download shows and movies to watch offline.
The Spectrum app provides an easy way to watch video content without having to pay a huge amount of money. These features make it the perfect choice for anyone who is looking for an affordable streaming service.
How The Spectrum App Works To Provide Streaming Services?
The Spectrum app works by streaming content directly to your device over the internet. You can use it on a laptop, smartphone, tablet, or smart TV. All you need is a stable internet connection, and you're good to go!
The app provides access to live TV shows, on-demand movies, and other video content. It also allows you to record live TV shows and movies. You can save your recordings on the app's cloud server, enabling you to watch them anytime, anywhere.
The app's user interface is straightforward and easy to navigate, ensuring that you never miss your favorite shows and movies. You can also set parental controls to restrict access to certain content, helping to protect your children from inappropriate material.
The Spectrum app is an affordable streaming service with a range of features that everyone can enjoy. It's easy to use and provides access to thousands of TV shows, movies, and other video content. So why wait? Download the app today and start streaming your favorite content!
Spectrum App Pricing Plans
The Spectrum app is a popular streaming service that provides a variety of entertainment options to its users. If you're considering using the Spectrum app, one of the first things you'll need to know is how much it costs. In this post, we'll take a look at different Spectrum app pricing plans, their features, as well as any hidden or extra costs you should know about.
Different Spectrum App Pricing Plans And Their Features
Spectrum app offers three pricing plans, each with different features.
Spectrum TV choice: this is the cheapest plan that Spectrum app offers. It costs $24. 99 per month and includes over 10,000 on-demand entertainment options. You can watch live TV channels as well, but they are very limited.
Spectrum select: the second plan offered by Spectrum app is the Spectrum select plan. This plan costs $44. 99 per month. You can enjoy 125+ TV channels with the select plan. You can also access the Spectrum app on multiple devices and view a variety of on-demand content.
Spectrum silver: the most expensive plan is the Spectrum silver plan, which costs $74. 99 per month. Along with 175+ TV channels, you can also view HBO, cinemax, and showtime, making the silver plan suitable if you're interested in watching premium shows and movies.
Comparison Of The Different Pricing Plans
Choosing the right streaming package usually involves comparing the different pricing plans.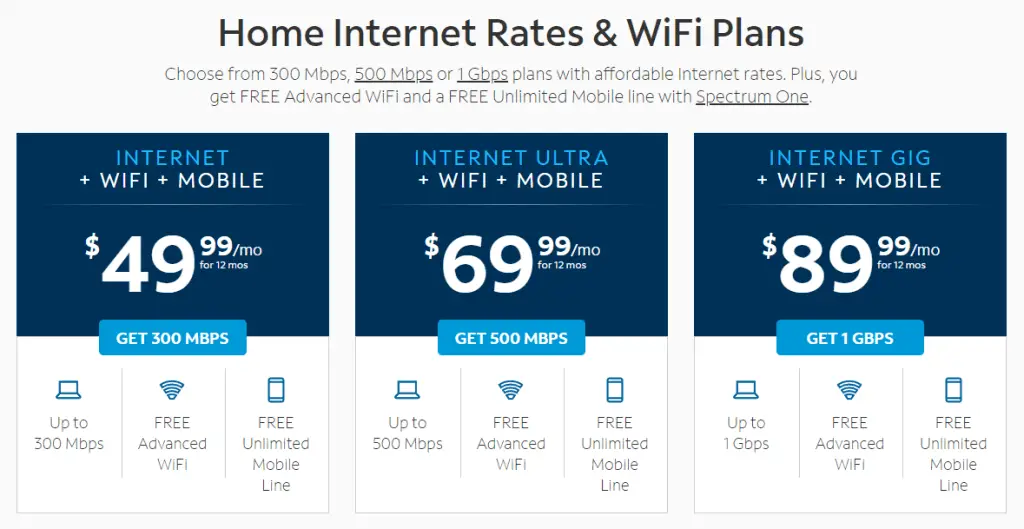 Details About Any Hidden Or Extra Costs For The Spectrum App
Spectrum app does not have any extra or hidden costs. However, there are two things to keep in mind. Firstly, it is important to note that the prices mentioned above are subject to increase at any time. Secondly, Spectrum app requires internet service to work.
If you are not already subscribed to Spectrum internet, you will need to do so to use the Spectrum app on your devices.
The Spectrum app offers a range of entertainment options at affordable prices, with the Spectrum TV choice plan being the cheapest. The details of the various plans should help you decide which one best suits your preferences and budget. Remember to also consider the extra cost of an internet connection, and keep an eye on the prices, as they are subject to increase.
Spectrum App Bundles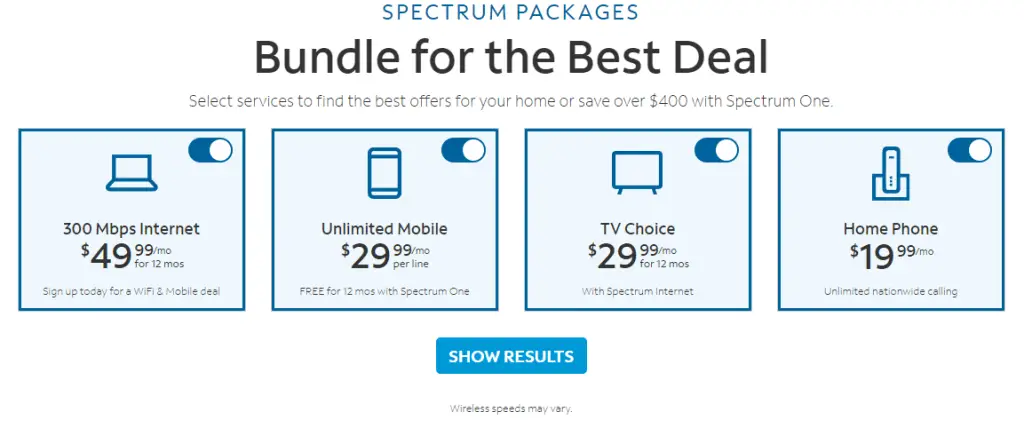 The Spectrum app is a great option for watching live television, on-demand content, and managing your Spectrum account from the convenience of your mobile device. The question is, how much does the Spectrum app cost? Well, the good news is that the app is free to download and install on your device.
However, you need to have an active Spectrum TV subscription to unlock all the features, which brings us to the Spectrum app bundles.
Description Of Spectrum's Bundle Deals That Include The App
Spectrum offers bundling options that include the Spectrum app. The bundles allow you to save money while still enjoying your favorite Spectrum services. By bundling your Spectrum TV subscription with other services, you can have access to the Spectrum app for no extra charge.
How To Save Money By Bundling The Spectrum App With Other Services?
The Spectrum app can be bundled with other services, including internet, home phone, and mobile services. You can choose a bundle package that includes all the services you need, which will not only save you money but will also give you access to the Spectrum app.
Bundling is a great way to make the most out of your Spectrum TV subscription while keeping costs down.
Here are some key benefits of bundling the Spectrum app with other services:
Save money by paying for multiple services in a single package
Get all the services in one bill for easy budgeting
Enjoy the convenience of using one company for all of your TV, internet, mobile, and home phone needs
Gain access to exclusive bundle deals and promotions
Explanation Of Any Restrictions Associated With Bundling
While bundling can save you money and offer added convenience, there are some restrictions to keep in mind. When bundling services, you may be required to sign a contract for a set period, typically one or two years. Additionally, some bundle packages may not be available in all areas or may be subject to availability limitations.
Overall, bundling your Spectrum app with other services is a great way to maximize your viewing options while saving money. Just be sure to review all the terms and conditions before signing up for a bundle package to ensure it meets your needs and preferences.
How Spectrum's App Compares To Other Streaming Services?
How Spectrum App Pricing Compares To Other Popular Streaming Services?
Spectrum TV is a popular streaming service platform that offers a wide range of choices, including live TV, on-demand content, and online streaming. Spectrum charges $44. 99 for the most basic plan, Spectrum TV select, and upto $94. 99 for their most complete package, Spectrum TV gold.
The prices are slightly higher than other streaming services which might not be suitable for some customers.
Here's how Spectrum's pricing compares to other popular streaming services:
Hulu with live TV: $64.
YouTube TV: $64.
At&t TV now: $55 – $183 per month (based on package)
Sling TV: $30 – $45 per month (based on package)
Philo: $20 – $25 per month (based on package)
Overall, Spectrum has competitive pricing position amongst its competitors in the market. However, customers who just want to watch live TV may want to consider cheaper options.
Comparison Of Features, Channels, And Other Offerings
When it comes to features, channels, and other offerings, it is essential to compare Spectrum app with other streaming services such as Hulu, YouTube TV, and sling TV.
On-demand content: Spectrum's on-demand library is not as extensive as Hulu or YouTube TV, which offer a diverse range of movies, TV shows, and original content.
Channel selection: Spectrum offers a wide range of channels, including premium networks like HBO and showtime. However, some competitors, such as YouTube TV, offer more channels for the same price.
DVR: Spectrum's DVR service charges an additional $5 per month, while competitors such as YouTube TV and Hulu provide free DVR services, quite a large advantage.
Streaming apps: Spectrum's app is compatible with many devices such as Roku, Amazon Fire TV, and Apple TV, but customers cannot use the app outside the us, unlike Hulu and sling.
Advantages And Drawbacks Of The Spectrum App Compared To Others
Advantages of the Spectrum app:
Offers a wide selection of channels, including premium networks like HBO and showtime.
Compatible with several platforms such as Roku, Amazon Fire TV, and Apple TV, giving users flexibility in using the app from their favourite device.
Spectrum TV app allows customers to stream live TV services and on-demand content.
Disadvantages of Spectrum app:
Expensive overall compared to its competition and may not suit some customers.
The on-demand library is not as extensive as competitors Hulu and YouTube TV.
DVR services are not free, which is a large drawback for those who use recording services often.
Spectrum is a great streaming platform but is better suited for those who value premium networks and live TV services. For those interested in on-demand content, cheaper alternatives, such as Hulu or Philo, might be their better choice.
Frequently Asked Questions:
What Is The Cost Of The Spectrum App Per Month And Is It Worth The Money Spent?
Spectrum app costs $24. 99-$44. 99/month. It's a great value for its extensive library of live TV channels, on demand content, and features like DVR and parental control. It's definitely worth the money spent if you want quality entertainment on your devices.
Are There Any Additional Fees Or Hidden Charges With The Spectrum App Subscription?
No, there are no hidden charges with a Spectrum app subscription. The advertised price includes all fees, and there are no surprises.
Can I Get A Trial Version Or A Demo To Assess The Spectrum App's Features Before Purchasing It, And If Yes, Is It Free Or Paid?
Yes, Spectrum app offers a free trial version for users to assess the app's features before purchasing it. The demo is available for both android and IOS devices.
What Are The Available Payment Options, And How Can I Cancel My Spectrum App Subscription If I Am Not Satisfied With It?
Spectrum app offers various payment options, including credit/debit cards, paypal, and automatic bank transfers. If you're not satisfied with the subscription, you can cancel it by logging in to your account on the website or contacting the customer support team.
Does The Spectrum App Subscription Offer Any Added Benefits Or Discounts If I Bundle It With Other Spectrum Services Like Internet Or Cable TV?
Yes, bundling the Spectrum app with other Spectrum services like internet or cable TV offers added benefits and discounts. You can save money by opting for a bundle package that includes the Spectrum app subscription.
Conclusion
The Spectrum app is an excellent streaming service for those who want access to their favorite shows and movies while on the go. The Spectrum app's cost varies depending on the user's subscription plan. At the time of writing, the price ranges from $7.
99 to $24. 99. However, it is important to note that additional costs may apply if users choose to purchase premium channels or pay-per-view events. Despite these additional costs, the Spectrum app is considered to be a relatively affordable option when compared to other streaming services.
Overall, the Spectrum app offers a vast selection of content and is a great option for individuals who want to watch TV on the go without the hassle of cable TV. Additionally, with the convenience of being able to use the app on multiple devices, it is a great choice for people who love to travel or commute.